Local SEO is crucial, in fact local SEO for small businesses are paramount.
Local searches account for 46% of all Google results.
That implies if you're a local business and your local SEO isn't in line, you're losing out on a potential customer every time a local searches for your goods or services online.
And there are a lot of people looking for it.
Approximately 89 percent of individuals use their cellphone to look for a local business at least every other day, with two – thirds searching everyday.
72 percent will seek a store within five miles of their search.
If your local SEO is weak, these searchers are incapable of finding you. This is why it is smart to have a renowned local SEO company to back you.
Steps to creating a successful local SEO strategy.
Evaluate your services and products.
Determine the search phrases you wish your company to appear for. This will mostly be determined by the services and/or products you provide.
If you run a local digital marketing agency, for instance, possibilities are you offer "social media marketing," "Facebook marketing," "paid advertising," and other such services.
Your goal here is to assess what your company has to offer and to identify some key terms that clients might use to find a company like yours. Compile a list of these terms as a preliminary step for your keyword research.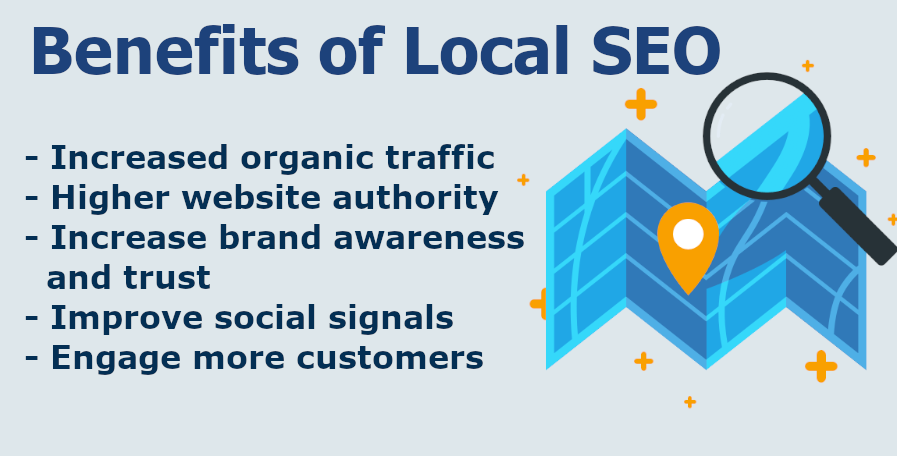 Examine your current website
An SEO audit can assist you in identifying any technical or on-page segment that may be impeding your website's performance. Before you bother about developing fresh SEO content or building backlinks, you must resolve these problems.
Hire a local SEO expert to evaluate your site and provide you with a list of issues that need to be solved.
Here are some SEO red flags to be aware of:
The site loads slowly.
Page titles are missing.
Meta descriptions are missing.
Broken hyperlinks
Content duplication.
There's no XML sitemap.
There's no HTTPS security.
Indexation is poor.
Mobile optimization is lacking.
Perform keyword research on competitors
Another objective of a good local SEO strategy is to outrank your local competition in local searches. To do so, you'll need to understand what keywords they're ranking for and how they're ranking for them.
Semrush or Ahrefs are SEO tools that may help you run a competitor analysis to determine what keywords your competition are ranking for, where their backlinks are originating from, and more. You may also view the keywords your website currently ranks for.
Use on-page SEO techniques.
The goal of on-page SEO is to optimize your website for the localized keywords you selected in phases 2-4.
To make sure your site is optimized for local search, best local SEO companies use on-page SEO best practices like:
Keyword Mapping,
Title, and Meta Description optimization procedure.
Content Development
Image Optimization
Internal Links
Structure of URLs
Make customized landing pages
Localized landing pages are pages designed exclusively for organic local search rankings. These sites should be optimized for the geo-specific keywords you've chosen, as well as feature educational content that attracts your intended audience.
Having optimized H1, H2, and H3 headings, writing keyword-optimized body content, integrating internal links, adding photos, and optimizing for mobile search are all best practices for designing landing pages.
Improve the visibility of your Google My Business listing
All local businesses could use Google My Business for nothing to increase traffic, collect customer reviews, and much more.
To boost your odds of ranking in google, you must have a well optimized listing for your company. Set up an account and declare your business, or start from scratch or get affordable local SEO services, there are many SEO agencies doing great work.
Submit important business information to online directories.
There are various online directories where you can submit your business information in addition to GMB.
To attract traffic, gain links, and boost your local SEO, you should publish your information to authoritative and (preferably) localized directories.
It's critical that your company name, address, phone number, and website URL (NAPW) are all the same throughout all directories.
Create a targeted link-building strategy.
Although link development is an important aspect of SEO in general, link building for localized sites can differ from link building for other sites. The physical location of the sites referring to your site is also significant in this regard.
Backlinks can be earned in a variety of methods, including:
Submissions to directories.
Outreach.
Guest post.
Content assets creation
Summary
You must have a winning local SEO plan to get found online as people depend more on search engines and online reviews to find what they want and need. Therefore, use this blog to climb the local SERPs, it has best local SEO practices. Continue reading to learn more!