No company runs in a bubble. If you run a small business, it's likely that you consider your rivals frequently. But what should you prioritize, and how should you use that knowledge?
A competitor analysis can be useful in this situation. It's worthwhile to undertake one at any point in the development of your company.
You will identify rival brands, investigate their marketing tactics, and assess the advantages and disadvantages of your brand.
What is Competitors Analysis?
Finding competitors in your industry and learning about their various marketing strategies is the method for carrying out a competitive analysis, as well known as a competitive analysis. You can compare this data to those of your competitors to determine your company's advantages and disadvantages.
You can conduct a high-level competitor analysis or delve into a particular area of your rivals' industries with the best competitor analysis tool.
This article will concentrate on how to perform an overall competitive analysis, but you must modify this procedure to fit the requirements and objectives of your company.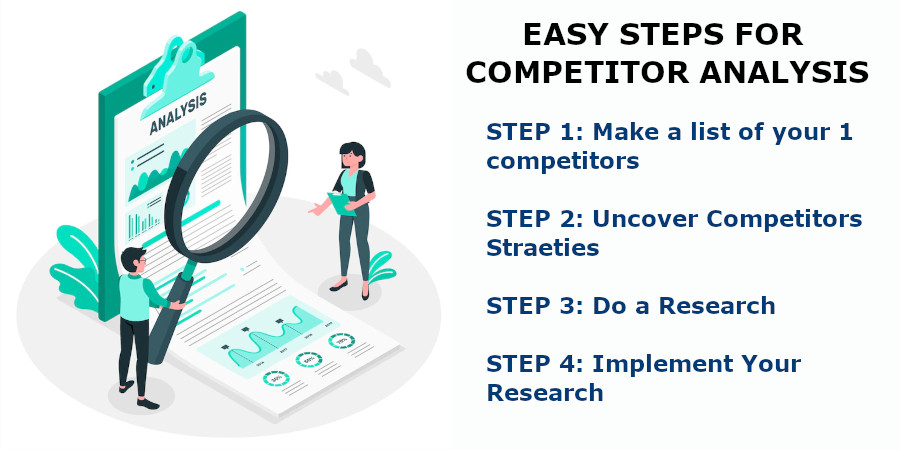 Why do Competitors Analysis?
Small business owners constantly find themselves juggling various tasks at once and this is why you need an SEO expert company, India. In hectic schedules, you will not have to worry as they would do the market research and competitor analysis. They can assist you and your business by:
•    Identify the weaknesses and strengths of your company.
•    Recognize your market.
•    Spot market trends.
•    Establish standards for future expansion.
Weaknesses
You can learn about the benefits and drawbacks of your own brand by examining how your competitors are viewed.
Recognizing your company's advantages can help you position your business in the market or create the mental image of your product or service that you want people in your target market to have. It's crucial to explain to potential customers why your service or product is the best option out of all those offered.
Knowing your company's weaknesses is just as crucial to advancing your enterprise. You can find areas where you might want to put time and resources to use by understanding where you fall well short of your customers' expectations.
You might discover, for instance, that customers favor the customer service provided by your rivals. Investigate your rivals to see what they're doing well and what you can adapt for your own business.
Recognize your market
You might discover businesses when identifying your rivals that you were unaware of or that you had not previously considered to be in your industry. To outperform your competitors, start by identifying who they are.
You might be able to find areas where your market is unserved by conducting an in-depth analysis of what your competitors have to offer.
You can take the initiative and increase your own offerings to meet any unfulfilled client needs if you discover discrepancies between what your competitors are offering and what clients want.
Spot market trends
Knowing how the industry is changing as a whole can also be determined by studying the competition. Even so, you shouldn't follow your rivals' lead in performing a task.
It's unusual, if ever, successful to duplicate the competition without having considered your own position in the market.
Don't immediately copy your competitors' offerings if you notice that they are doing something that you are not. As an alternative, consider your customers' necessities and how you can benefit them. When everyone else is zipping, it's often preferable to zag.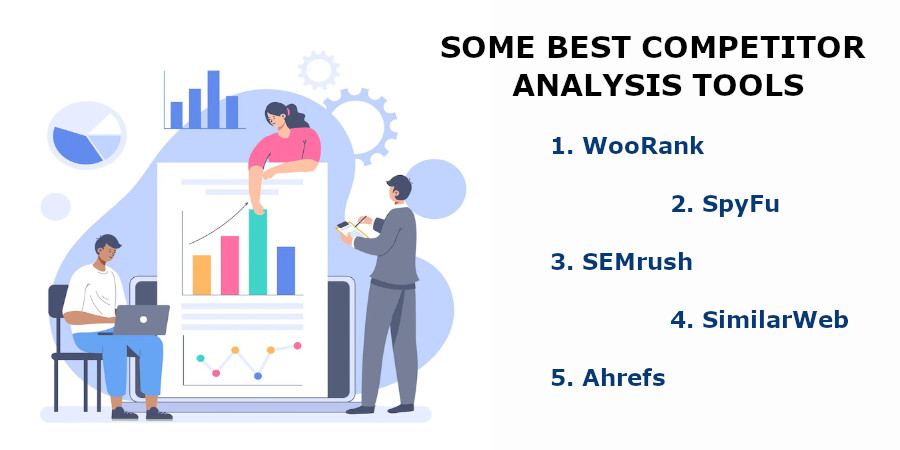 Set goals for future expansion
You should take into account businesses that are both bigger and smaller than your own when conducting a competitor analysis.
Studying established companies in your industry can help you create a vision of success and a benchmark for measuring your future expansion.
The companies that might threaten your market share in the future can be identified by investigating new competitors in your sector, on the other hand.
When Should You Do Competitors Analysis?
When launching a new business, it's always a great idea to conduct a comprehensive analysis. A competitor analysis is useful for businesses other than startups. It is a tool that can be applied at every stage of the company's life cycle and ought to be.
You can recognise new market trends and keep a competitive edge over other businesses in your industry by periodically revisiting and upgrading your competitor assessment, or by starting one from scratch.
How To Analyze Competitors?
It can be challenging to decide what to emphasize when performing a competitive analysis. Here are six steps to get you started: Think about the purpose of your competitor analysis before you start. Include any additional research fields that support these objectives.
•    Determine your competitors
Take into account where your customers would go if they won't purchase from your company when compiling a list of potential rivals.
Searching for your product or its category on Google or another search engine and browsing the results is a simple way to get started.
You can also conduct a survey or conduct an interview with current clients to learn more about the alternatives they looked into before choosing your goods or services.
So that you can dedicate sufficient time and effort to researching each competitor, limit your list to 10 or fewer. To get a thorough understanding of the market, when you finalize your list, try to include a variety of businesses or seek help from SEO expert company India.
•    Make a matrix of competitors.
Take some time to organize yourself already when you plunge into your competitor analysis. You can organize your research using a table or spreadsheet called a competitor matrix, as well as referred to as a competitive grid.
It will be simpler to make comparisons of your results to those of competitors and identify wider trends as a result.
Start by giving each competitor you've recognised a row or column to itself. List the pieces of data or categories of data you want to know about each competing product on the other axis. If you're unsure of what to appear at this point, don't fret. As your research progresses, you can always add more kinds.
•    Gather Background Information
Start researching your competitors' companies once you have a list of them. Start by looking for the most fundamental details, and ascend the ladder from there.
Start by checking out any news articles that have been written about the company as well as its websites and social media profiles. Here are some fundamental details that you might want to look for are company size, company history, location.
•    Target market of your competitors should be profiled.
In the absence of customers, a business cannot exist. You can learn a lot about your competitors' businesses by gaining an understanding of who they sell to. To identify the ideal client for any business:
– Take a look at their stated mission.
– Have a look at the messaging they employ.
– Keep track of the social media contacts they make.
– Check to see whether any current clients are mentioned in the content.
Utilize this data to create a profile of the target market that your rivals are targeting with their goods and services. Since these are your competitors, these customer profiles will begin to resemble those of your own target market, so pay attention to even minor variations.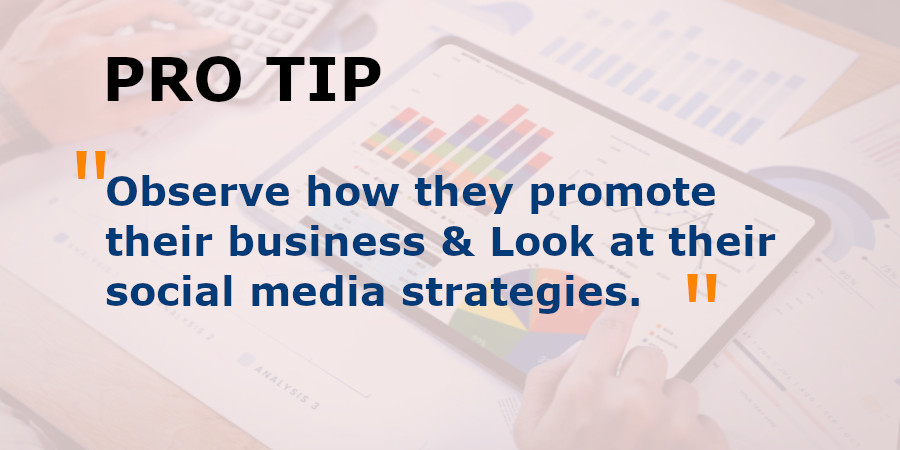 •    Consider the four Ps.
According to SEO expert company India, it's time to investigate how each competitor approaches that market segment now that you've determined who their target market is. A thorough examination of their marketing tactics will be necessary.
The four Ps—product, price, promotion, and place—that make up the marketing mix are the prerequisites for the launch of a product. For each competing product you've chosen, ask yourself the questions that follow as part of your research.
•    Product
What do they market?
What characteristics are present in their offering?
What about the good or service most appeals to customers? What are the product's or service's flaws? (Pro tip: Look at customer testimonials.)
•    Price
What sort of pricing strategy do they employ? Is it a yearly subscription or a one-time purchase?
What are their prices for their goods or services? Do they provide discounts or sales?
What relationship exists between their pricing and the actual or perceived quality of their goods or services?
•    Promotion
How do they spread the word about their offering? What media do they use for advertising, such as social media, email marketing, print ads, etc.?
What features of their goods or services do they place an emphasis on? What makes them stand out from the competition?
What is their business's history? How do they describe their company's brand?
•    Place
Where are their products sold? Do they conduct their business online or offline?
Do they collaborate with merchants or third-party marketplaces or do they purchase directly from their customers?
Summary
It is foolish to overstate the significance of a competitor analysis. To make sure you are keeping up with and matching the efforts of others in the industry, one straightforward but effective marketing strategy is to analyze your competitors.To know more on competitor analysis, read on!